Stainless steel bag filter housing for industrial filtration
The KBF stainless steel bag filter housing is our convenient and economical filtration solution designed to meet the needs of a wide range of industries: water, chemical & polymers, food & beverages, cosmetics, etc., offering the possibility to use a wide variety of filter bags to suit many industrial filtration applications.
K2TEC designed the KBF filter vessel in stainless steel for the filtration of industrial liquids ranging from 1 up to 5000 cps. The KBF filter is a versatile, reliable and cost-effective solution.
The main advantages of the bag filter housings are its wide selection of filter bags with progressive filtration ratings from 0.5 to 2000 microns and a flow rate ranging from 1 to 180 m3/h. Convenient and durable, this filter is highly appreciated in many different fields.
This filter vessel can be adapted for multiple applications such as paint filtration, process water treatment, and as a safety filter for drilling and pumping waters.  It is ideal in multiple industries: agri-food, cosmetics or fine chemicals, for which we offer an electro-polished or mirror finish with no retention zone.
Highlights of the bag filter housings
Bag filtration offers numerous benefits. Performance is scalable according to your filtration demands. A simple change of filter bag can completely transform the filtration threshold. The flow rates are scalable, it is possible to use a simple stainless steel bag filter, multibag filters or  multiplex systems (several in-line filter housings) for flow rates up to 1000 m3 / h.
The industrial bag filter housing consists of a cylindrical body, usually made of 304 or 316 L stainless steel. This filter vessel can accommodate one or more filter bags depending on the flow rates. The liquid to be filtered arrives from the top of the filter into the bag. This filter bag is supported by a restrainer basket that handles the mechanical loads. The fluid passes through the filter bag leaving the impurities inside of it. Then, the liquid comes out through the bottom nozzle of the filter housing, free of impurities.
During filtration, the pressure upstream gradually increases until the bag is completely clogged. It is then necessary to stop the installation or by passing to another filter body via a valve. Simply open the cover and replace the filter bag.
K2TEC offer filter bags with filtration ratings ranging from 0.5 to 2000 microns.
Both, the filtration rating and filter bag materials can be adapted to best suit the demands of each industrial process.
Do you have a filtration inquiry ?
Bag filter housings are popular because they offer many advantages. Reliability, performance, simplicity, filtration quality and economy are just some of it best features. It is also possible to adapt the filter vessel, so that it can be easily integrated into an existing installation.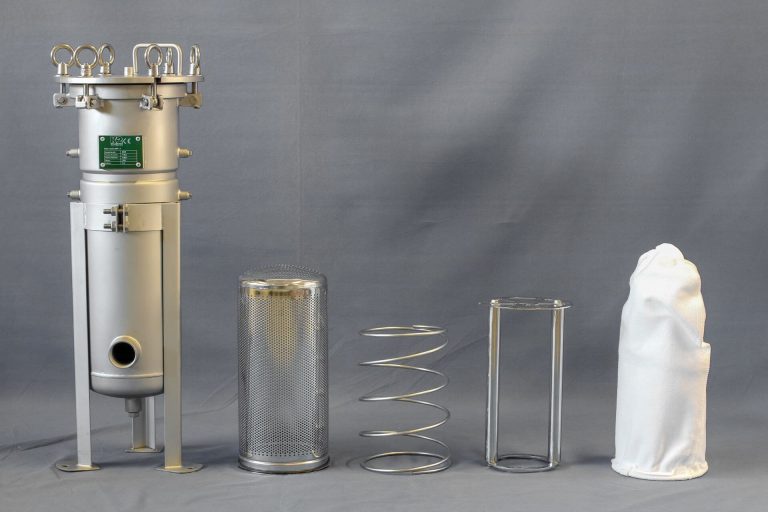 As the stainless steel bag filter is used in many applications, a single model would not be capable of meeting the requirements of all users. Some processes require a 2000µ filtration at high flow rates to make a pre-filtration. Other processes require to deal with submicronic particles for sensitive technical products. K2TEC offers different filter vessels to suit every need.
The KBF bag filter housings are economically designed filters with a top-of-the-range manufacturing and an excellent price/quality ratio.
– The fluid enters the vessel through a lateral inlet.
– The lid is equipped with a hinged handle for easy changes of the filter bags. An O-ring ensures perfect sealing of the lid.
– Equipped with a restrainer basket and a compression element for the filter bags to guarantee perfect sealing.
– Made of 304 or 316L stainless steel with different finishes: rough, bead-blasted or electro-polished.
– Flow rates from 20 to 50 m3/h.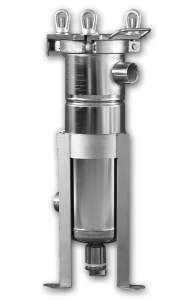 The KBF HD filter housing is designed for heavy industrial applications requiring the best performance for demanding processes.
– Liquid flows from the top via an inlet in the lid.
– Lid with a hinged handle for an easy bag replacement.
– The bags are positioned in-line with the upper flange, they are held in place by the compression of the lid, which is equipped with a gasket.
– Inlet and outlet are aligned to simplify the installation of the filter and save space.
 – The filter includes a restrainer basket for the bags.
– Made of 304 or 316L stainless steel with a bead-blasted or electro-polished finish to work with flows between 20 and 50 m3/h.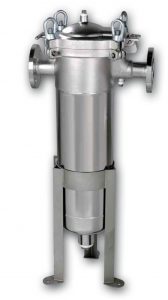 Based on the KBF and KHD model filters, K2TEC manufactures smaller filter vessels for small batches (from 6 to 10 m3/h). They are manufactured with the same high quality and reliability as our traditional KBF and KHD vessels.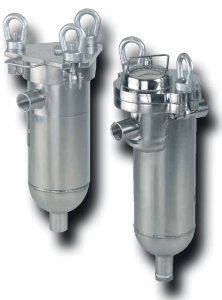 For applications with a flow rate greater than 50 m3/h it is possible to install several filter vessels in line, with the option of operating each filter individually thanks to a shut-off valve. This type of installation is preferred when flow interruption is not possible or when filtering with a cascade of filtration ratings.
At K2TEC, we can also manufacture filter housings each containing 3 to 24 bags. All bags must be changed at the same time and this type of filter is preferred for operating with high-volume batches.
With filtration ratings from 0.5 microns to 2000µ, a wide flow range and a viscosity of up to 5000 cPs, there are many applications for the bag filter vessel. 
Here are some of its main applications.
Not all industries are alike, and for each one of them, we offer a unique bag filter housing to meet all your needs.
From river water prefiltration to filtering cosmetics before packaging, K2TEC offers options that suit all processes.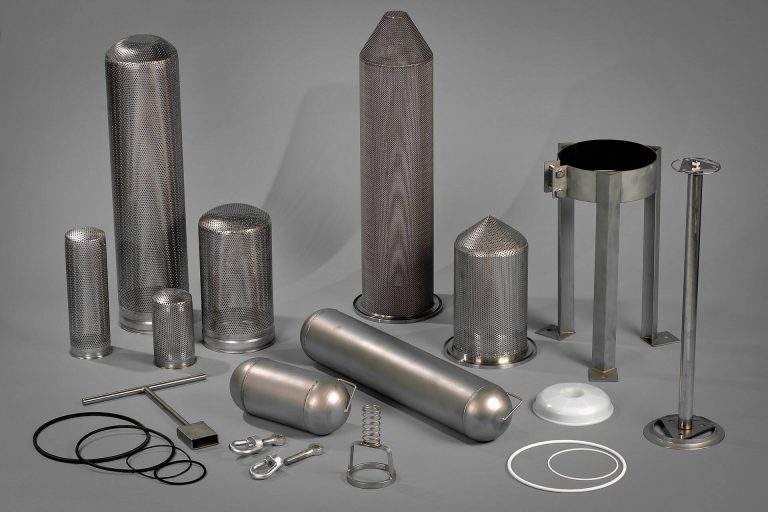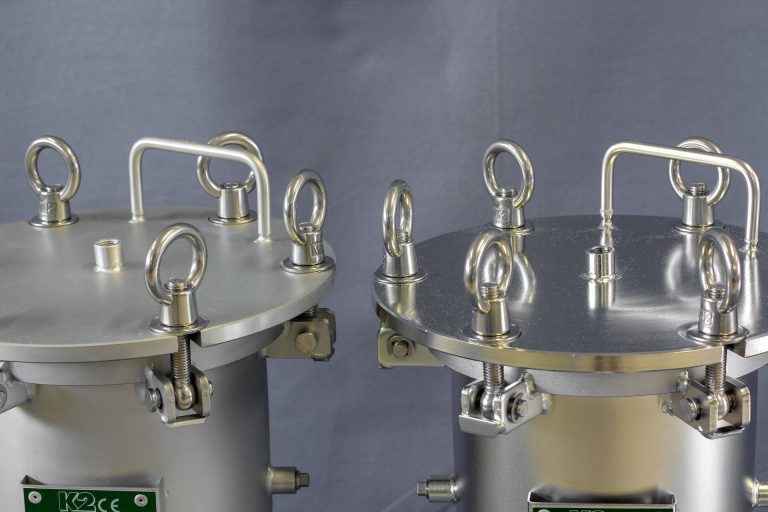 Among the options of the bag filter, surface aspects and materials are important elements of your choice. K2TEC offers several levels of finishes after welding, a pickled/passivated version, a bead-blasted version, an electropolished version and a manually polished version whose roughness index can be controlled.
For materials, K2TEC has standard 304 and 316L stainless steel filter vessels but can also use more noble materials such as hastelloy or inconel, if needed. 
The filter vessels can also be provided with a Halard type protective coating for processes where stainless steel is not enough. 
For occasional use or for batch production, it is sometimes necessary to be able to move the filtration vessel in your facility. In this context, we propose to install the bag filter on a mobile stainless steel skid. This mobile unit can also be electro-polished like all the filters in our range.
This mobile skid can be equipped on request with a platform that can accommodate a pump and a control box.
These K2TEC filters may interest you :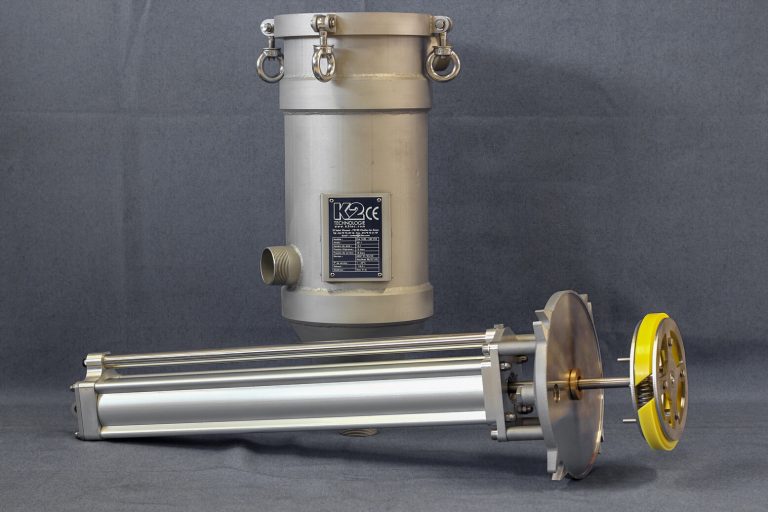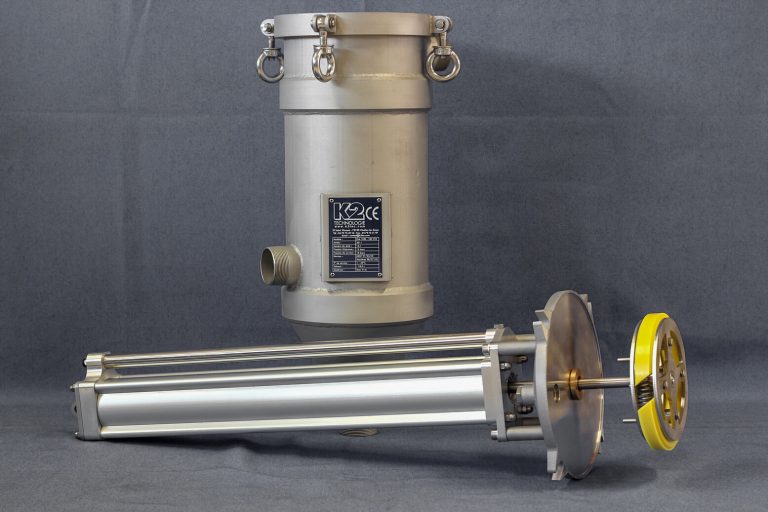 Filtration of viscous products Previous Next Made in France Automatic self-cleaning filter for viscous products The PLM automatic self-cleaning scraper filter is an industrial filter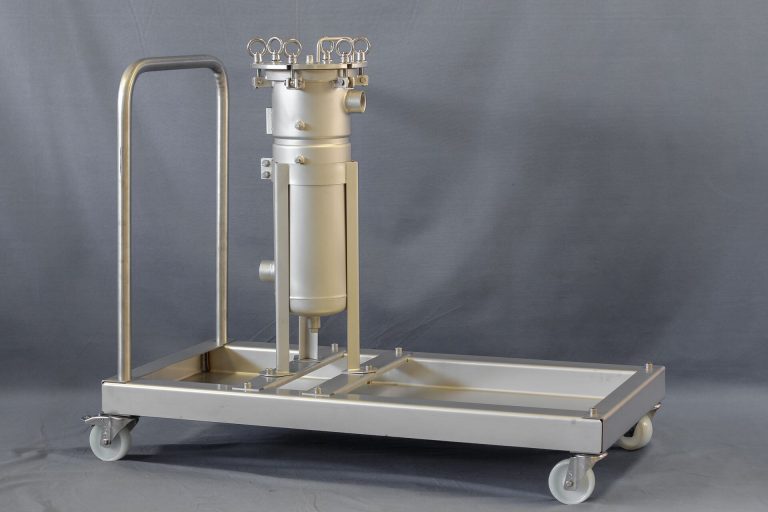 Filter skids and mobile industrial filtration systems for bag filter housings and automatic self-cleaning filters.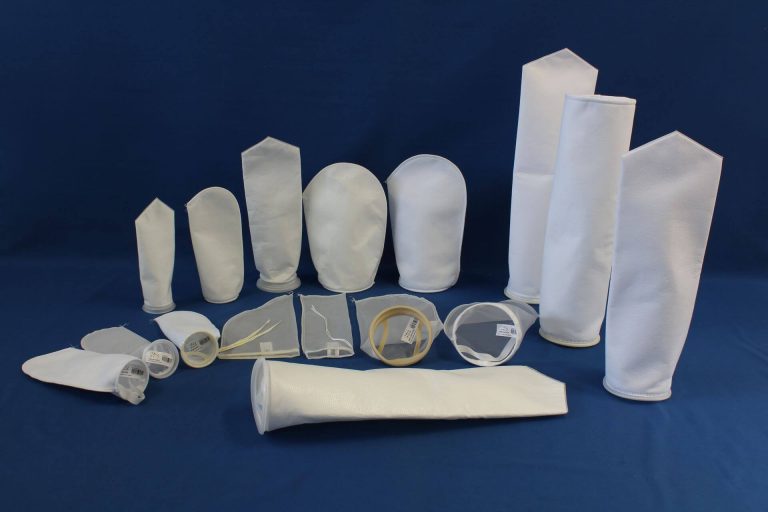 K2TEC manufactures filter bags for the filtration of liquids : complete range of filter bags in polypropylene felts, nylon monofilament, special fabrics…