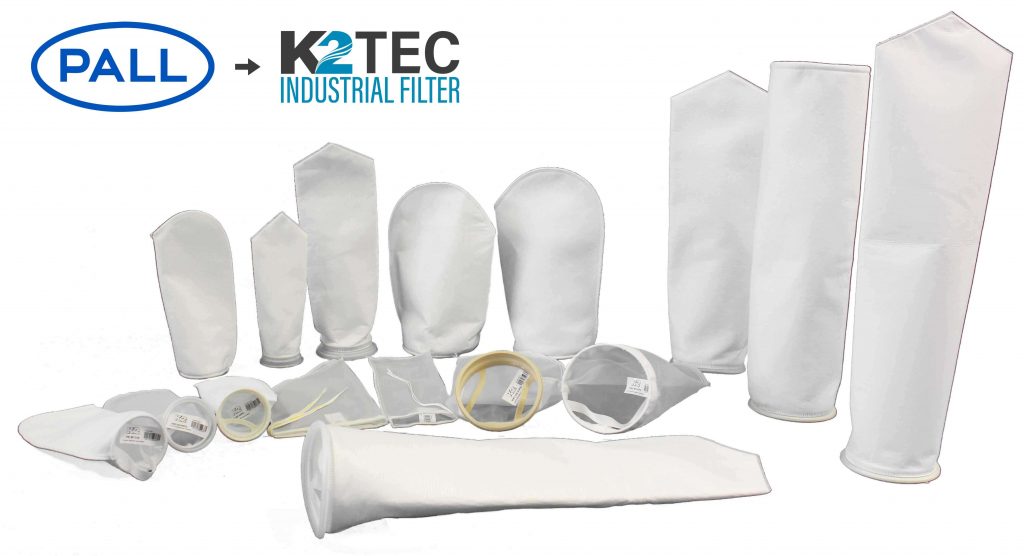 Filtration giant Pall Corporation has officially announced the final discontinuation of the manufacturing and marketing of its range of PALL FSI filter bags and bag filters housing.
Faced with this situation, K2TEC responds to all customers wishing to obtain or have equivalent filter bags. Reliable, flexible and of high quality, all PALL FSI products have an equivalent in our range.
PALL FSI compatible filter bags
Below is the correspondence of the PALL FSI references with the products of the filter bags range K2TEC.
BOS, BOS-MAX, BOS-G, POMF : Polypropylene microfiber filter bags with nominal or absolute filtration. Bags blown by fusion (multilayer and microfiber).
POEX, MAXPONG : Nominal filtration polypropylene needle felt, extended life.
PEEX : Nominal filtration polypropylene needle felt, extended life.
PONG : Standard nominal filter bags made of polypropylene needle felt.
PENG : Standard nominal filtration polyester needle felt filter bags.
NMO : Standard filter bags with nylon monofilament.
PEM : Standard filter bags with polyester monofilament.
PMO : Standard filter bags with polypropylene monofilament.
X100 : Standard filter bags size 5 (15 cm in diameter x 50 cm in length).
All our bags can be manufactured according to CE and FDA food standards. If necessary, they can also be manufactured and adapted to plastic clamps (Polyloc) from PALL FSI.
Bags filter housing compatible PALL FSI
We also offer a full range of bag filters housing in standard sizes 1, 2, 3 and 4, which are compatible substitutes for PALL FSI filter housings such as CBFP, SBF…
Made of 304 or 316 L stainless steel, it can accommodate a filter bag as a consumable. With us this product compatible with the PALL FSI range is available under the name of KBF bag filter housing.
Why collaborate with K2TEC?
An experience of more than 35 years in filtration which allows us to guide you towards the simplest, most efficient and most economical solution.